Removing walls to create a larger all in one bathroom
Westbury-On-Trym
Client Brief
This family bathroom was split into two rooms with the WC being separated from the bath and the basin. This made the basin/bath room too small for a family bathroom. Therefore we knocked both the landing wall and the WC wall down and rebuilt the landing wall in stud with just the single door. We created a very spacious and easy to use family bathroom. We positioned the bath against the left hand side wall, and used the Hansgrohe thermostatic bath shower mixer to fill the bath and provide an excellent shower. This product was connected to the Stuart Turner 3 bar shower pump (as was the ensuite shower) to ensure the pressure to both was immense. We used my favourite bath screen, the Kudos Inspire 3 Panel bath screen that provides a longer than standard barrier when showering, but also folds neatly away when the bath is being used to soak in.
The clients did not require any basin storage in this room, so we used the cost effective but stylish Laufen Pro Compact Washbasin and Close Coupled WC to help style the room with its modern, simple clean lines. As the landing wall was being rebuilt as a stud wall we were able to use a recessed mirror cabinet above the basin. This gave the clients the storage they wanted in the room, lights and a recharging socket without the issue of having the depth of a cabinet effecting their use of the basin. We combined the two sizes of the Vitra Uptown porcelain tile (900 x 225 and 900 x 150) to create the modern statement wall.
Both our team and the clients were delighted with the end result.
Client's Review (taken from my Facebook Review Page)
"A big thank you to Paul and his team for our new bathroom and en-suite! We are delighted with the quality of the products, the design, service and installation. It was a pleasure from first consultation through to completion. Obviously such works are a big investment, but we think Paul offered good value considering the high standard of products and installation. It was nice to have a follow-up and shows Paul really cares about his customers."
RANGE: EVERYDAY LIVING. TOTAL PROJECT COST: £10,700 incl. Vat.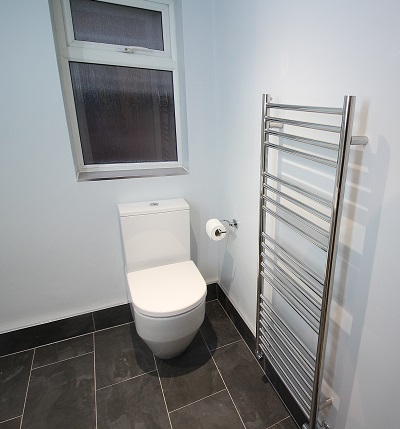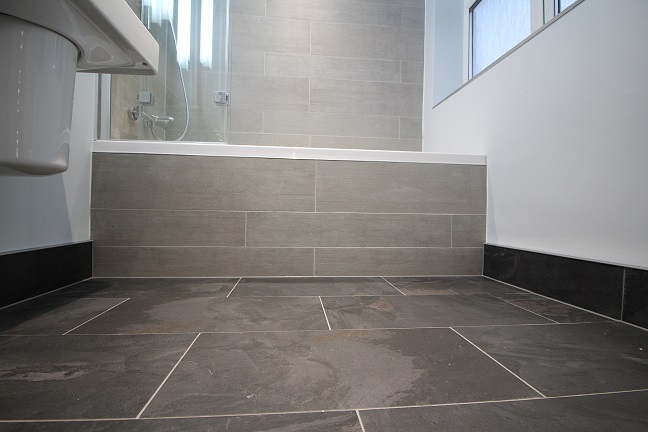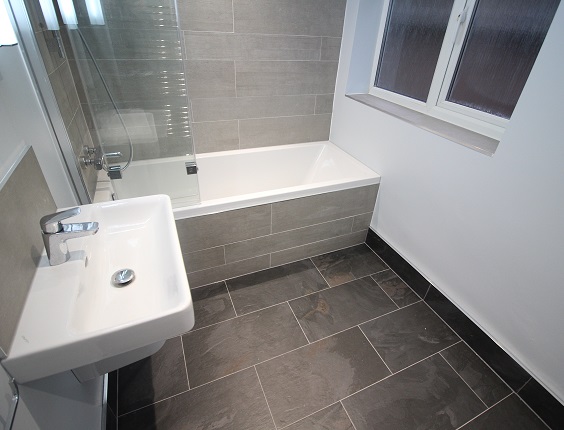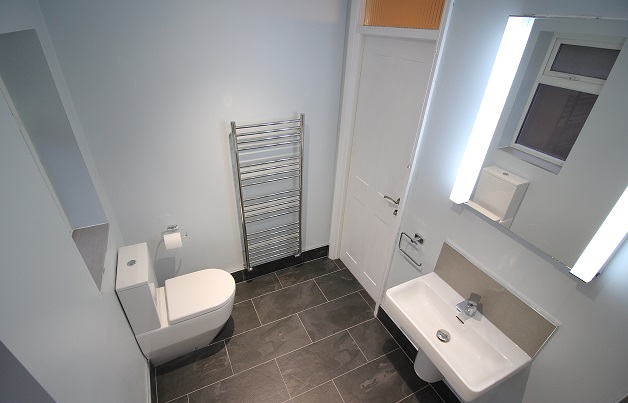 Products Used
Carron Quantum 1700 x 700 Carronited Bath
Kudos Inspire 3 Panel Bath Screen
Hansgrohe Ecostat Thermostatic Bath Mixer
Hansgrohe Raindance Select S150 3 Jet Hand Shower
Stuart Turner Monsoon 3 Bar Universal Shower Pump
Laufen Pro Close Coupled WC Suite
Laufen Pro 600 x 380mm Compact Washbasin with Semi-Pedestal
Hansgrohe Logis 70 Basin Mixer
HIB Parity 60cm Recessed Mirrored Cabinet
JIS Ashdown 1250 x 520mm Stainless Steel Towel Radiator
Vitra Uptown Dark Grey Porcelain Tile 900 x 225mm (walls and bath panel)
Vitra Uptown Dark Grey Porcelain Tile 900 x 150mm (walls and bath panel)
Vitra Rainforest Anthrasite Matt 600 x 300mm Porcelain Tiles (Floor,Skirting, Window Sills)