Bedroom Conversion
Redland
Client Brief
Create a larger showering area with simple access. Keep storage in the room but make it look less busy and cluttered.We were delighted to be instructed by our client in Redland to convert an existing bedroom to a luxury family bathroom incorporating a freestanding bath and spacious walk in shower.
Our first task was to install a new waste pipe through the house from digging a trench in the garden and via the under floor void of the house, run this up through the utility room to the corner of the existing bedroom. As the bedroom floor was stepped down significantly from the landing we were able to easily run all our pipework from the shower, basin and bath on the existing floor, back to the newly created waste pipe. We then installed new joists and floor above this.
The client liked the idea of an open, large shower and saw the benefits of installing a wetroom tray. This kept the continuity of the floor tile and also enabled the client to enjoy the benefits of under floor heating throughout the room.
Due to the clients commitment to choosing the very best quality products, we were able to supply the stunning Victoria and Albert Vetralla freestanding bath, Bisque Classic Towel Rail and Vitra Nest Trendy Basin Unit and Cabinet amongst many other high end bathroom products.
Lighting the room was very important to the client, so we created 2 lighting circuits. The first being standard spotlights in the ceiling. The second circuit incorporated subtle floor spotlights that were positioned accurately around the room. These lights, coupled with the unique Led light under the basin, gave the client the opportunity for cultured lighting when required, including through the night when family were staying.
To complete the room, our carpenter Adam removed the existing boiler cupboard and made 2 bespoke shaker style cupboard doors. Before being fitted these were taken to be professionally spray painted for that perfect finish, in keeping with the rest of the room.
Client testimonial
"I'm delighted with the new bathroom that Paul and his team have installed for me. As this involved changing a bedroom into a bathroom we had to start from scratch so the design was crucial for its success. Paul came up with some ideas very quickly and we worked together to get the right outcome. He had ideas that I hadn't even considered (e.g. chic floor lights) and he was very helpful in guiding me through the many choices that had to be made, the hardware, tiles, flooring etc. He has an excellent tiler. Very important for me was the speed with which Paul would react to questions and queries and the way in which he kept me informed about any changes in timings and deliveries. I have no hesitation in recommending him highly for his expertise, his attention to detail and his creative vision."
RANGE: DESIGNER BATHROOMS. TOTAL PROJECT COST: £27,000 incl. Vat.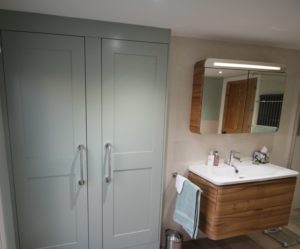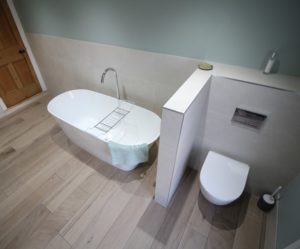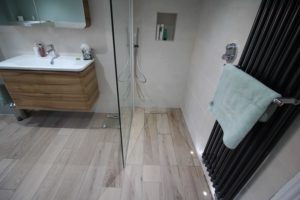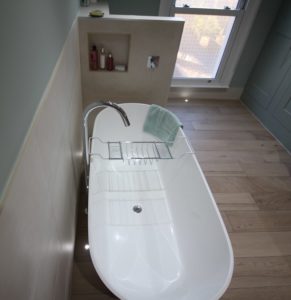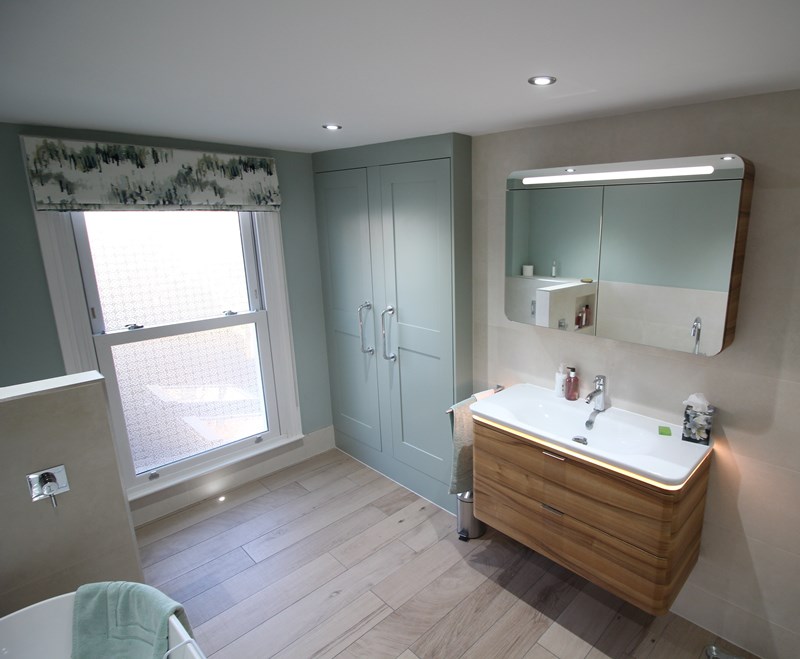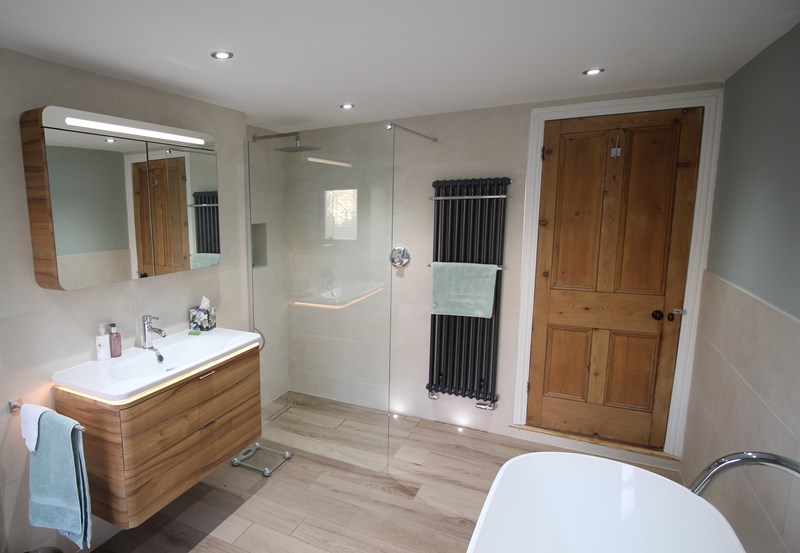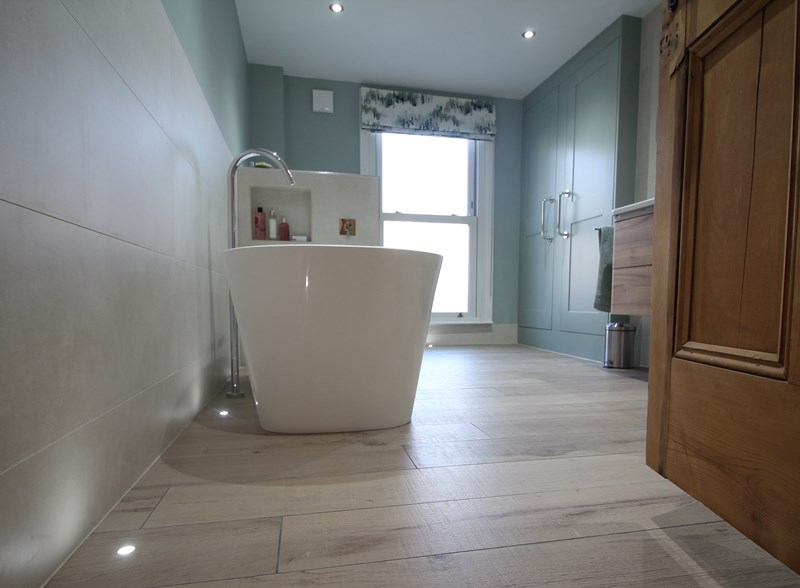 Products Used
Geberit Omega 0.98cm WC Frame and Flushplate
Vitra Sento Wall Hung WC Pan with soft closing seat
Vitra Nest Trendy 100cm Washbasin Unit with 2 Drawers in Waxed Natural Wood
Vitra Nest Trendy Countertop Washbasin with LED Lighting
Vitra Nest Trendy 100cm Mirror Cabinet with LED Lighting
Crosswater Design Basin Monobloc
Crosswater Design Manual Valve (for Bath)
Crosswater Design Floor Mounted Bath Spout
Victoria and Albert Vetralla 2 1650 x 730mm Freestanding Bath
Abacus Wetroom Shower Tray and Floor
Abacus Emotion Plus Thermostatic Shower Valve, 250mm Square Shower Head and Hand Shower
Merlyn 10 Series 1000mm Shower Wall
Bisque Classic Towel Rail (with additional rail) in Anthracite (150cm x 46cm)
7sq metres of underfloor heating and glass thermostat
22sq metres of Rhin Ivory 100 x 33.3cm Wall Tiles by Porcelenosa
12sq metres of Ascot Roble 12.3 x 120cm Floor Tiles by Porcelenosa
Abacus Floor Spotlight Kit
Smedbo House Accessories
Abacus LED Lighting Tape Kit
Bespoke Boiler Cupboard (Handmade) and machine painted in Glass IV by Paint and Paper Library
Paint and Paper Library Glass II (for Walls)