A Simple, Clean Family Bathroom
Stoke Bishop
Client Brief
As is often the case with clients, a leaking bath or shower tray is often the catalyst for us to receive a phone call as the bathroom project can no longer wait!
This is the case with Mr and Mrs S, who took the opportunity of a misbehaving bath , to remove it all together and enlarge the existing shower space to a much bigger one.
Many clients still worry about removing a bath completely from a house as their heads have been filled with the thought that the house suddenly becomes unsellable. I always point out that it is important to have the bathroom right for yourself and not a potential buyer in 5 years time. A stylish, well designed shower room will have far more appeal to a prospective purchaser than an out dated bathroom, even if it still contains a bath.
With Mrs S using the ensuite, this room was designed and devised with Mr S in mind. By taking the room completely back to the brick and starting again, we were able to fit a 1200 x 900 quadrant enclosure in the new space, which still left us room to install the stunning Laufen Palace 900mm basin and drawer combination by its side. This meant that the basin was no longer under the window (a pet hate of mine) and allowed us to install the lit mirror and recharging socket above the basin.
By fully tiling the shower area and half tiling around the basin and the WC, we kept tiling to a minimum. To add warmth and a contrasting colour to the walls, the clients chose a Karndean flooring, expertly fitted as usual by Cameron Lee in Henleaze.
RANGE: EVERYDAY LIVING. TOTAL PROJECT COST: £10,000 incl. Vat.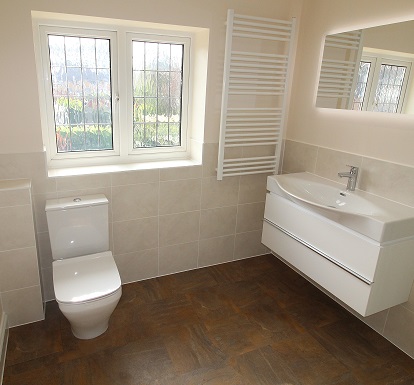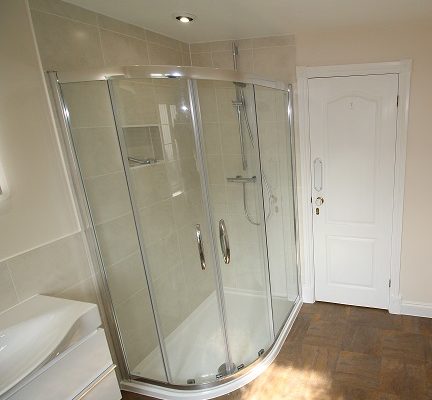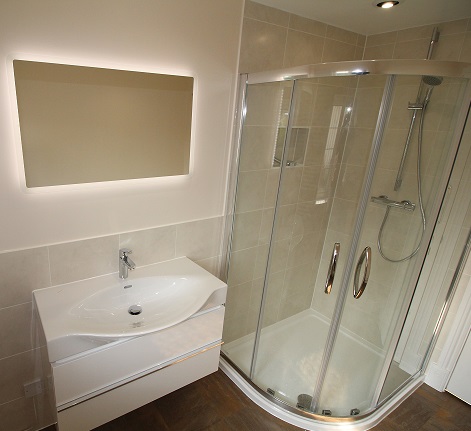 Products Used
Stone Resin 1200 x 900 Offset Quadrant Shower Tray
Aquadart Venturi 8 1200 x 900 Offset Quadrant Enclosure with Double Doors
Hansgrohe Raindance Select S150 3 Jet Hand Shower and Slide Rail Kit.
Stuart Turner Monsoon 3 Bar Universal Shower Pump
Duravit Durastyle Close Coupled WC
Laufen Palace 900mm Vanity Unit with 2 Drawers in glossy white c/w Basin
Hansgrohe Focus 100 Basin Mixer
Ambiance Bain Esquire 900mm Mirror with Lights
HIB Recharging Socket
Bisque Deline 1200 x 600 Electric Towel Radiator
Johnsons Natural Beauty Ivory 360 x 275mm Ceramic Tiles
Karndean Flooring (supplied and fitted by Cameron Lee, Henleaze)